Who we are
We're a passionate and dedicated bunch of machine learning experts, data scientists, engineers, IT professionals, product managers, and architects supporting the creation of ethical, fair and bias-free AI. We're risk-takers and experts in our field, which makes us trendsetters.

We're shooting for the stars together. That means we're more than coworkers – we also like to have fun together. We celebrate birthdays with cakes, chill out with a glass of wine and do yoga together at our office. Join us on our journey and let's conquer the world together!
Our code. Our culture. Our vibe.
Our Core Values
Be Brave
We are courageous in our convictions and always do what is right.
Be Authentic
We are our genuine selves at work, because we know that in diversity, there is strength.
Excel
We aim to be better than we were yesterday. Why? We want to be the best!
Own It
We take responsibility for our work and are proactive in seeking out solutions.
Trust
We work together transparently and openly, trusting ourselves, our colleagues, and our leadership team.
Have Fun
What's the point if we don't have fun? At the end of the day, we enjoy the work we do.
Who we're looking for
We want people who work hard, with passion, integrity, and an eye on the future. Here are a few key strengths we look for: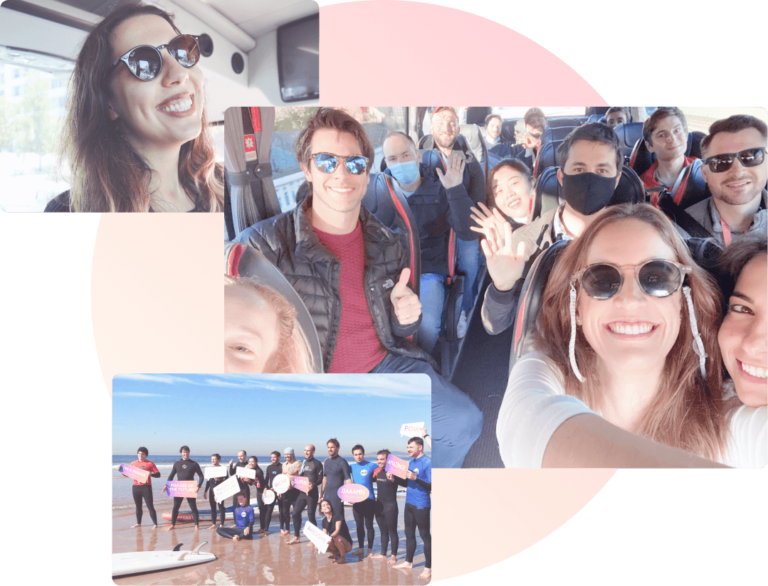 Team Player

We've seen the power of teamwork first-hand, and so we look for people who like to work as a team – and therefore win as a team too.

Expertise

Whether you're a machine learning engineer, or a seasoned salesperson, you are confident in the expertise you bring to the table.

Authentic

In line with our values, we're looking for people who bring their authentic selves to work, and aren't afraid to show who they really are.

Passionate

We want people who are passionate about what they do and delivering the best solutions possible.
The Career Journey
At Defined.ai, we encourage everyone to shoot for the stars. Here's a look at what your career journey could look like.
The benefits of working at Defined.Ai
Flexible Work Schedule
You like to work during morning hours? Or are you a night owl, who can't imagine waking up early? We're a performance-based company. Manage your schedule your way and feel free to work from wherever you are most productive, thanks to our hybrid model.
Diverse & International Team
We believe that diversity, in all its forms, is what makes our team great. We celebrate the diversity of our global team, located in four offices around the world. We speak many languages, and we are from more than 25 different countries. We embrace cultural exchange so we can learn from each other.
Continuous Learning Environment
We prioritize ongoing development and provide many learning opportunities. We celebrate success and empower one another's growth day-in and day-out. Join our team to collaborate with academically recognized experts, develop your skills with unlimited access to the Udemy platform and take part in language classes or internal feedback workshops.
High-Growth Industry
Join us in a thriving, high-growth industry with people who are passionate about developing ethical, fair and innovative AI. We believe in our mission to change the world with modern, meaningful solutions. We are driven by our curiosity, and we keep track of technical news. All of that allows us to set the trends to inspire AI development.
Fun Office Perks
Each of our 4 office locations is outfitted with perks to make your day better. Enjoy one of our game rooms and meet new friends playing board games. Take a moment to relax and treat yourself with a massage or find your peace during a yoga session, all available at our offices.
Generous time off
For our people to perform at their best, we know they need time to reset, recharge, and unwind. That's why we give generous amounts of paid vacation to our staff.
Free meals
We never underestimate the power of a good meal, so we provide breakfasts, lunches and happy hours to fuel your productivity. Start the day with breakfast at the office and keep your energy high with a cup of aromatic coffee and a healthy snack from the kitchen. Have fun with your teammates during delicious lunch and engage in conversation over a beer in the evening.
Benefits for mind and body
We offer an array of benefits to taking care of your physical and mental health, such as medical insurance and parental leave. In addition, we offer free psychological support and gym partnership.
Can't find the right role?
Feel free to email your resume to us by clicking the link on the right. We love meeting new people, and you never know when we might need someone just like you!